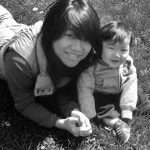 I'm a writer from the great white (actually, more like murky grey and pissing rain all the time) north. I mostly write character-driven epic fantasy, though I also dabble in paranormal/horror fiction for shits and giggles.
I grew up in a slum area in Taguig, Philippines, which is actually not as horrible as it sounds. I had a vibrant childhood that involved running after the neighbourhood dogs, watching Japanese anime in the afternoons, and picking up most of my English from classic novels. It was a great life, full of danger and excitement: playing leapfrog on a daily basis with traffic, braving flood waters that would destroy most of our stuff and keep us perched on top of tables at least once a year, and occasionally having brushes with the fantastic that I can't even begin to articulate. I started writing when I was six years old and have not stopped since.
I moved to Vancouver, Canada when I was 13, and the first thing I did was pester my parents into getting a computer so I could finish a multi-character novel I was working on. I progressed into writing about rabbits set in the world of Richard Adams' Watership Down. At 16, I collaborated with my boyfriend on an RPG Maker project that resulted in the epic fantasy world of The Agartes Epilogues.
The backstory and worldbuilding became bigger than I could program. I ended up sitting down and writing the novel a year later, which would eventually become the first of many drafts of Jaeth's Eye.
---
In the meantime, life kind of took a massive detour. My boyfriend moved out immediately after high school and we became focused with trying to make it as an adult in an increasingly confusing world. I was married at 20, before I could finish college, and became a mother at 23, again, before I could finish college. Keeping our heads afloat became the top priority. At some point, I also entered the civil engineering field.
But I think in my heart, I have always been a writer, and I did everything I could to keep that love alive. I continued worldbuilding, writing epic fantasy drafts, and sometimes (not always) venturing away from the genre. I was able to finish one manuscript, Birthplace, that I wasn't too terribly disappointed with.
I also started working with World Tree Publishing in 2012 as an editor. I've known the staff for over seven years by that point and it was a labour of love. My debut novel, Jaeth's Eye, was published by World Tree Publishing in December 2014. It was the turning point that made me realize the amount of work and effort that went into being an author, and I loved every minute of it.
---
I'm incredibly lucky to have a whole team of people helping me out with this endeavour. Editors, artists, beta-readers, even a couple of musicians…they're always there when I need encouragement, if I need to bounce around ideas about my plot, characters, or worldbuilding, and they're always the first in line to read my books (occasionally screaming "WHAT? WHY? YOU BITCH!" while furiously reaching for the next chapter). Having people who believe in your work makes a difference in the amount of energy I can put into this thing. Writing epic fantasy is not easy. Believe me when I say I am forever grateful to all of you for keeping me on this path.
Bio From World Tree Publishing

K.S. Villoso was born in Bicol, Philippines, and immigrated to Canada at age 13. Her work borders the real and the fantastic, with vivid cultures and backdrops inspired by her Asian heritage. She is endlessly fascinated with the sprawling worlds and branching plotlines of epic fantasies.

Currently, she lives in the woods of Anmore, BC, with her husband, two children, and dogs. When she isn't writing, she can be seen hauling her family around the British Columbia backwoods in search of the ever-elusive Sasquatch.

You can see her work at her publisher's website, World Tree Publishing.